As Christians watching the events of the America, we sit back and wonder how henious acts of evil can be carried out by the youth of our country time and time again. We'd rather not face it, don't really want to contemplate it; we offer prayers and try to move on, thankful that the blood was shed far from our kids, or are home, if in fact it was.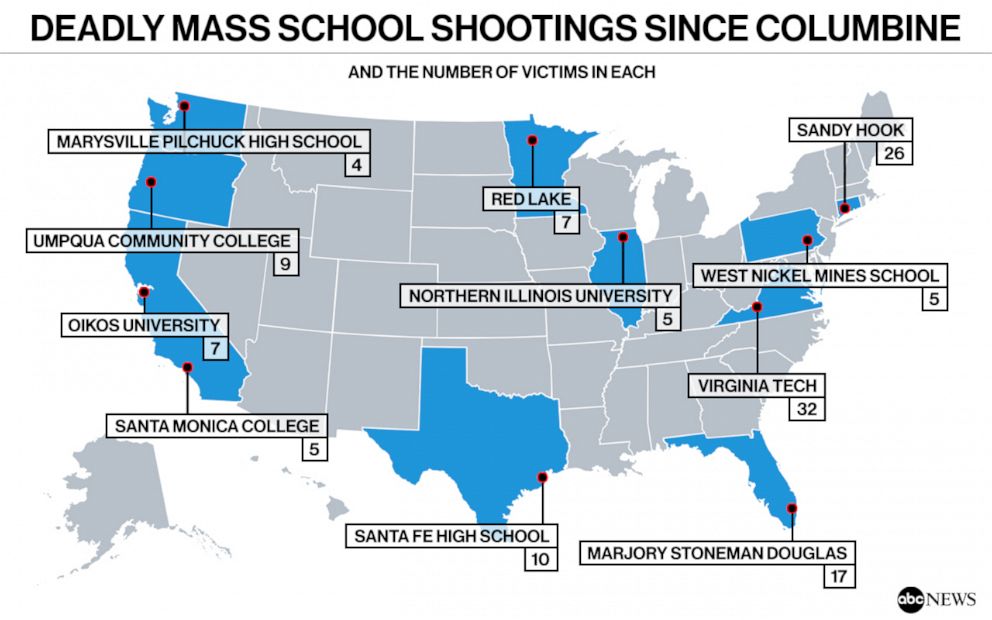 We watched Sandy Hook, Columbine, Virginia Tech, Sante Fe, and others….now Oxford. And even if in our own minds, we have to develop a philosophy or reasoning behind the events. How come young men by the dozens who hunted with their dads back in the 60's could pull up to a public school with rifles on the gunrack in the back of their pick up truck, and no threat was perceived, and no violent action resulted?
As a Christian, I observe history, and trends, and the unfortunate results, and want to take this time to plainly state what I see. A country that committed to teaching evolution in 1959, during the space race, so that American students didn't fall behind. That slowly moved from biological evolution as a way to explain man's chance origins, to a universe described as completely materialistic, needing no designer, no creator, a cosmic accident. Academia insists with zeal that at no stage in the 14 billion year long accident to get from stardust to you as an individual, no one loved you, cared for you, wished you to be alive, or will care when you are gone. We teach children, inadvertently, but inescapably, that there is no purpose, no ultimate meaning.
Don't believe me? Read the conclusions of prominent atheists after spending a career committed to materialism, and secularism:
William Provine says, "Let me summarize my views on what modern evolutionary biology tells us loud and clear … There are no gods, no purposes, no goal-directed forces of any kind. There is no life after death. When I die, I am absolutely certain that I am going to be dead. That's the end for me. There is no ultimate foundation for ethics, no ultimate meaning to life, and no free will for humans, either. No inherent moral or ethical laws exist, nor are there any absolute guiding principles for human society. The universe cares nothing for us and we have no ultimate meaning in life."
Richard Dawkins recounts this in regards to a reaction to his book, The God Delusion: "A foreign publisher of my first book confessed the he could not sleep for three nights after reading it, so troubled was he by what he saw as its cold, bleak message. Others have asked me how I can bear to get up in the mornings. A teacher from a distant country wrote to me reproachfully that a pupil had come to him in tears after reading the same book, because it had persuaded her that life was empty and purposeless. He advised her not to show the book to any of her friends, for fear of contaminating them with the same nihilistic pessimism". He also states, "Presumably there is indeed no purpose in the ultimate fate of the cosmos…"
Atheist chemist Peter Atkins says, "At root, there is only corruption, and the unstemmable tide of chaos. Gone is purpose; all that is left is direction. This is the bleakness we have to accept as we peer deeply and dispassionately into the heart of the Universe."
Thomas Nagel: "It is often remarked that nothing we do now will matter in a million years. But if that is true, then by the same token, nothing that will be the case in a million years matters now."
Jon Casimir: "Here's what I think. There is no meaning of life. The whole thing is a gyp, a never-ending corridor to nowhere. What is passed off as an all-important search is basically just a bunch of philosophers scrabbling about on their knees, trying to find a lost sock in the cosmic laundromat."
Existentialist Jean-Paul Sartre: "I existed like a stone, a plant, a microbe… I was just thinking… that here we are, all of us, eating and drinking, to preserve our precious existence and there's nothing, nothing, absolutely no reason for existing."
Can we not say that this world view is more prominent now than in 1959? Furthermore, in 1959, parents were involved, religious, engaged in this conversation. A generation later, maybe two, children were still being brought up in church, having the judgement of morality explained, taught not just right and wrong, but that wrong had far reaching, even eternal consequences.
An atheist today might say, I don't believe in God, but I don't want to blow off life, count it all as useless, hurt others. Generally though, this normal response to hurting others would be expected in most cases, as morality is written on our hearts, and seems to be objectively obvious. But I'd also point out that those same people are adults that chose to not believe, but in many cases had parents who took them to church, and exposed them to the possibility of eternal judgement, to a biblical God of the universe that may have to be faced; or at least to the reality of morals and empathy.
Today, we have a larger and larger group of young people in school who now may be 2 or even 3 generations removed from any biblical or moral foundation whatsoever, having never been exposed to the bible, or if so, only in ridicule as an archaic outdated myth which has no bearing on our life or actions. These thoughts will be fortified by the schools, and colleges, and parents who were indoctrinated by the same treatment. Furthermore, it is likely that these same children are surrounded by others who share or encourage this philosophy of moral relativism, maybe not for the same purposes, but who are more accepting of a godless worldview.
The reaction to atheistic conclusions will be varied, certainly. But being thus separated from a Godly worldview, many will believe to their very bones that their life is a chance cosmic accident. Reiterated by a publicly sanctioned, secular world view, this will in many instances determine how they behave. For some, it might mean hedonistic pleasure. For some, the only hope would be developing close relationships, often a boyfriend or girlfriend giving one all of their validation, and in many shooting instances, the cause of unrecoverable grief when it goes awry. And unfortunately for some, it may mean drawing the logical conclusion that no one is important, nothing matters, and no life is special or valuable. So in the interest of living big, claiming their place in a useless history, proving anarchy is as achievable as order, and showing the world just how purposeless and hopeless everything is, more and more are deciding to murder as a means of giving up.
Disagree? Too bleak? Note, that the Columbine shooting took place on Hitler's birthday on purpose. One student was told he did not deserve the jaw that evolution gave him. One student was executed for admitting a belief in God. How many years can we choose to collectively teach young minds that no God exists, that you are nothing more than and evolved mammal that came from scum, and fish, that your offspring are no better than those of a frog, or a rat, that you are not special in any way, that nothing happens when you die, and that ultimately any morality you choose is relative, subjective, and inexorably unimportant. Why then would one choose to be a good steward of the earth? Why treat others with dignity and respect? Why value life? Why choose good over selfish pleasure, or fame, or power? Why in a 14 billion year old accidental, godless universe is killing and rape even wrong? There is no standard, and no basis for teaching one.
And in the end, when the Christian community tries to fight for Christian recognition in a public forum, society inevitably doubles down, pushes for freedom from exposure to any religion, and ignores the dire consequence of their world view. This is why we must repent… Maybe because this word has been made fun of, we don't use it enough; but maybe it's time…. Repent. Repent and Believe. And remember the difference it would make if everyone adhered to this universal truth:
Proverbs 9:10 The fear of the Lord is the beginning of wisdom,and the knowledge of the Holy One is insight.